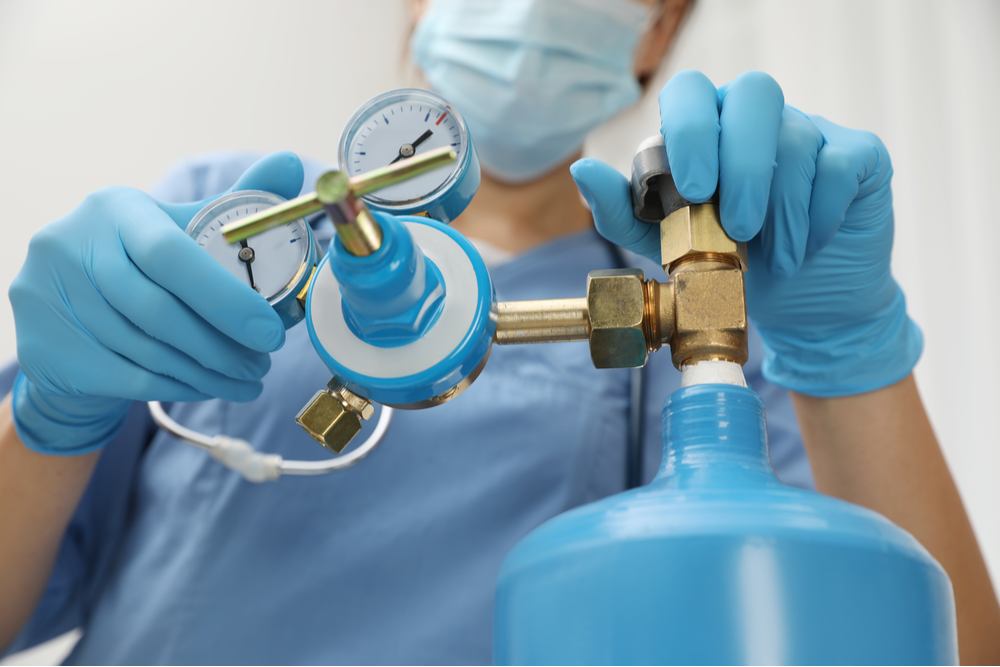 Although they are used to save lives, medical gases require careful handling or else they can be dangerous. Following the medical gas storage requirements as specified in NFPA 99 (2021) is crucial for ensuring compliance and protecting the health and safety of patients, visitors and staff. Read on to learn about medical gas cylinder storage requirements and how they should guide the protocols at your facility.
Where They Should Be Stored
Medical gas storage room requirements are determined primarily by the total volume of the cylinders and/or containers stored within. Within a single smoke compartment, individual cylinders available for immediate use in patient care areas with an aggregate volume of < 300 cubic feet are not required to be stored in an enclosure. Storage locations for containers or cylinders with a total volume of > 300 cubic feet but not more than 3,000 cubic feet shall be stored outdoors or in an interior enclosure of non or limited combustible construction with doors or gates that can be secured, or within an enclosed cabinet of noncombustible construction having a minimum ½ hour fire protection rating. If the total volume of gas equipment is greater than 3,000 cubic feet, it shall meet the design, construction and ventilation requirements for central supply systems in accordance with NFPA 99, sections 5.1.3.3.2 & 5.1.3.3.3.
No matter the storage area, flammable and non-flammable gasses cannot be comingled in the same enclosure and empty cylinders must be marked and kept segregated from full cylinders to avoid confusion.
Choose Evergreen Medical Services for Expertise
When it comes to medical gas systems, no one knows as much as Evergreen Medical Services. Our capabilities range from installations to inspections to repairs and more. We have the knowledge necessary to help you secure your gas storage for maximum safety. You also can depend on us to provide comprehensive training courses to give your staff all the information they need for every type of situation and requirement.
If you want to learn more about everything we have to offer or get started, reach out and speak with one of our knowledgeable representatives today. We're ready and willing to help you do everything necessary for the proper management of your medical gas systems.