What Is a Gas System Riser Diagram?
Medical gas pipeline mapping is required by regulatory agencies. CAD schematics, or "riser diagrams," trace the paths that the piped medical gases travel from their sources, through the facility, and into ICUs, ORs, and other patient care zones. A large color printed gas pipe riser diagram showing shutoff valve locations and the areas they control is vital for both emergency and maintenance system shutdowns.
How Is the Gas Riser Diagram Produced?
Shutoffs and accessible piping are labeled as the piping is traced.
Pipe sizing is documented and labels affixed to valves and piping during tracing. The length of each pipe and the location of each joint are marked.
Medical gas system CAD mapping is produced to indicate piping, source equipment and valves throughout the facility.
A large-scale color print is mounted in the engineering shop so valves can be quickly located and shut off in the event of an emergency.
As a recognized leader in medical gas systems, Evergreen Medical Services has the knowledge and skillset necessary to generate gas line riser diagrams. Thanks to our expertise, we can provide you with the most accurate map of your assets. Keeping these documents on hand can make maintenance, repairs and expansion much easier and ensure a safer health care environment. To learn more about our capabilities and how we can be of service in your facility, reach out to us today and speak with one of our experienced representatives.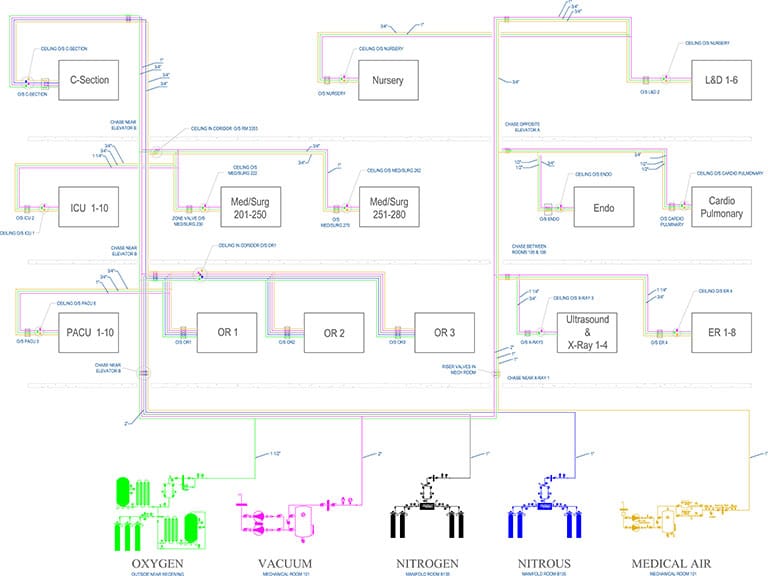 Why Is Medical Gas Drafting Needed?
A CAD schematic ensures compliance and safety. In fact, TJC (The Joint Commission) standards require schematics for all medical gas system shutdowns. Medical gas system riser diagrams reduce the time required during shutdown preparation by helping you quickly identify valve locations and the areas they control. The diagram is useful not only during planned shutdowns, but also during a fire or other emergency when it can save the lives of patients and employees.